Italian Day Planner Circa 1972
When I found the Italian recipe for minestrone the other day, I also came across a day planner from 1972 which was given to my grandparents by some of their friends. It contains recipes, which are written in English and black and white photos of places in Italy.
I haven't looked at it for a while, but decided to thumb through it a bit, and came across several recipes that sounded fun to try: risottos and pastas, fried artichoke hearts, and soups.
And then I came across one that I wasn't too sure of! A Charlotte, but not just any Charlotte…one that used hard-boiled egg yolks. I've never come across a recipe like this and it sounded interesting, if not just a little strange.
I tried to coax my daughter Corinne into making it, as we lately have been cooking together on Zoom. She lives with her husband in San Diego so getting together has been more challenging during the Pandemic. Corinne didn't have any gluten free lady fingers which the recipe required. Neither of us were up to the task of making gluten free lady fingers as we had already spent time making gluten free pizza dough!
So, I attempted the recipe on my own, a little weary of what it would turn out like. The original recipe was soaked lady fingers (in rum), so I started there. Lining the bottom of the pan with I them, then starting on the topping of vanilla, rum, cream, with butter and sugar, and the egg yolks.
Hard -boiled egg yolks?
The hard-boiled egg yolks had me baffled for a moment. But it does save from needing to temper the eggs I suppose.
Creaming some butter with sugar first, then creaming in the "hard-boiled" yolks (although I made them on the softer side, eight minutes in boiling water), rum and vanilla, adjusting measurements as I went. At this point, the cream was supposed to be layered on top of the rum soaked lady fingers, but it just didn't look right to me. It was a bright yellow cream. It needed something more!
Yes to Guittard Extra Dark Baking Chocolate added in!
I added in a bit of heavy cream, followed by some melted Guittard Extra Dark Baking Chocolate. Once you add good quality chocolate to anything, it definitely will taste better! Tasting a little bit, I agreed, yep, much better!
Ever made a Charlotte??
Having never made a Charlotte before, I wasn't sure exactly where to start! I knew the Charlotte had lady fingers around the circumference of the "cake", so I went ahead with my recipe. After cutting the lady fingers into halves, I ended up with just the right amount of gluten free lady fingers! Perfect. You could let the ladyfinger rise over the filling quite a bit more if you use full length ladyfingers.
I spooned the cream in and tucked some rinsed and dried fresh blackberries into the top of the cream. Voila! Much prettier! Into the fridge it went, once it got a piece of cellophane over the top.
After dinner, I removed the chilled Charlotte from the refrigerator. Removing it by pulling up on the cellophane that lined the pan (no removable pan this size in my kitchen supplies). Then I wrapped a ribbon around it and dusted with a sprinkling of cacao powder and powdered sugar.
The filling is like a firm chocolate mousse
This is a super easy and pretty (and a no-bake) dessert. It looks like a party! I couldn't get husband Paul to try it, because of the dark chocolate.
The great news is, it definitely did not taste like hard boiled eggs! Just like a firm chocolate dark mousse filling, and then the hint of rum and sweetness of the lady fingers.
(Updated 1/28/23)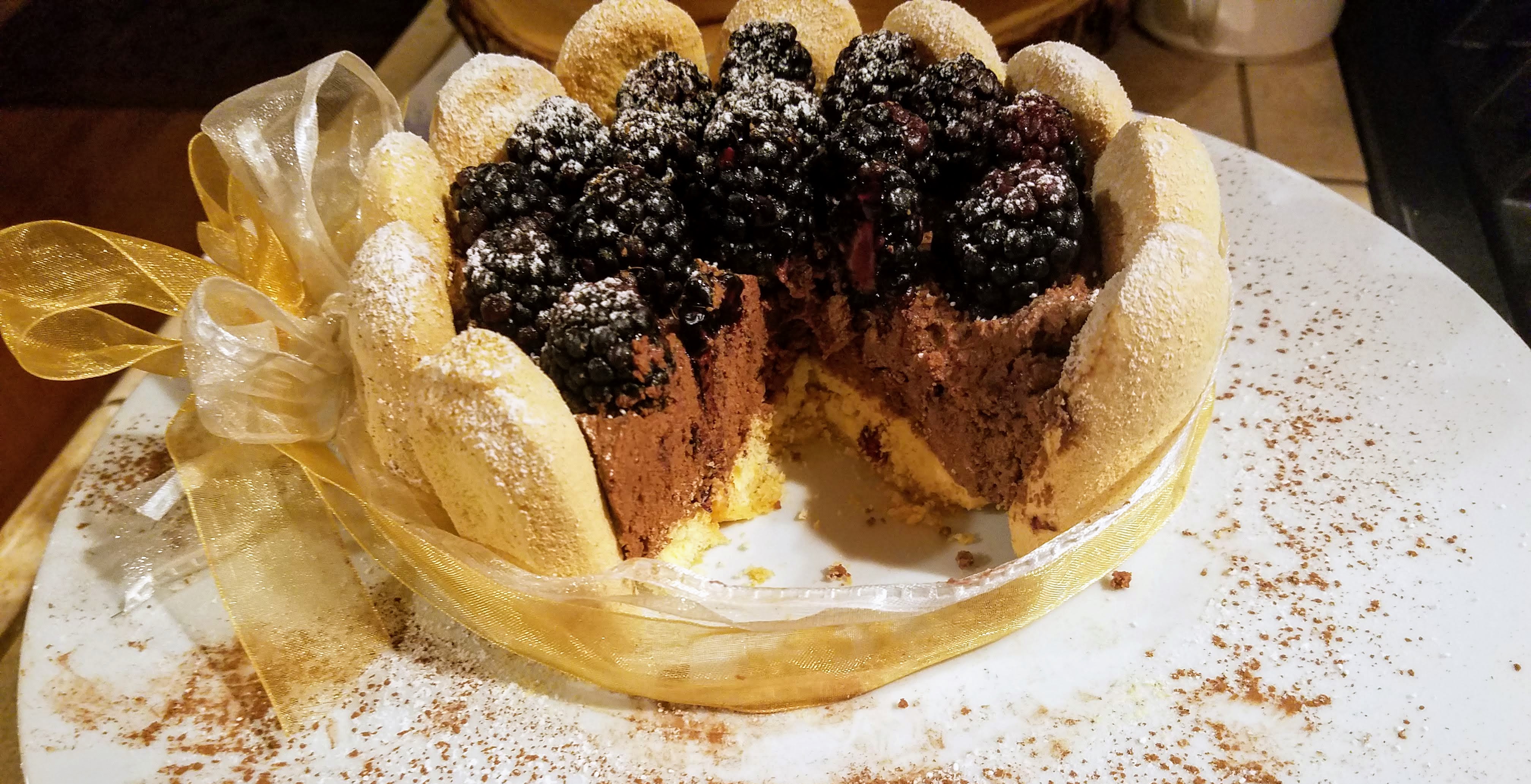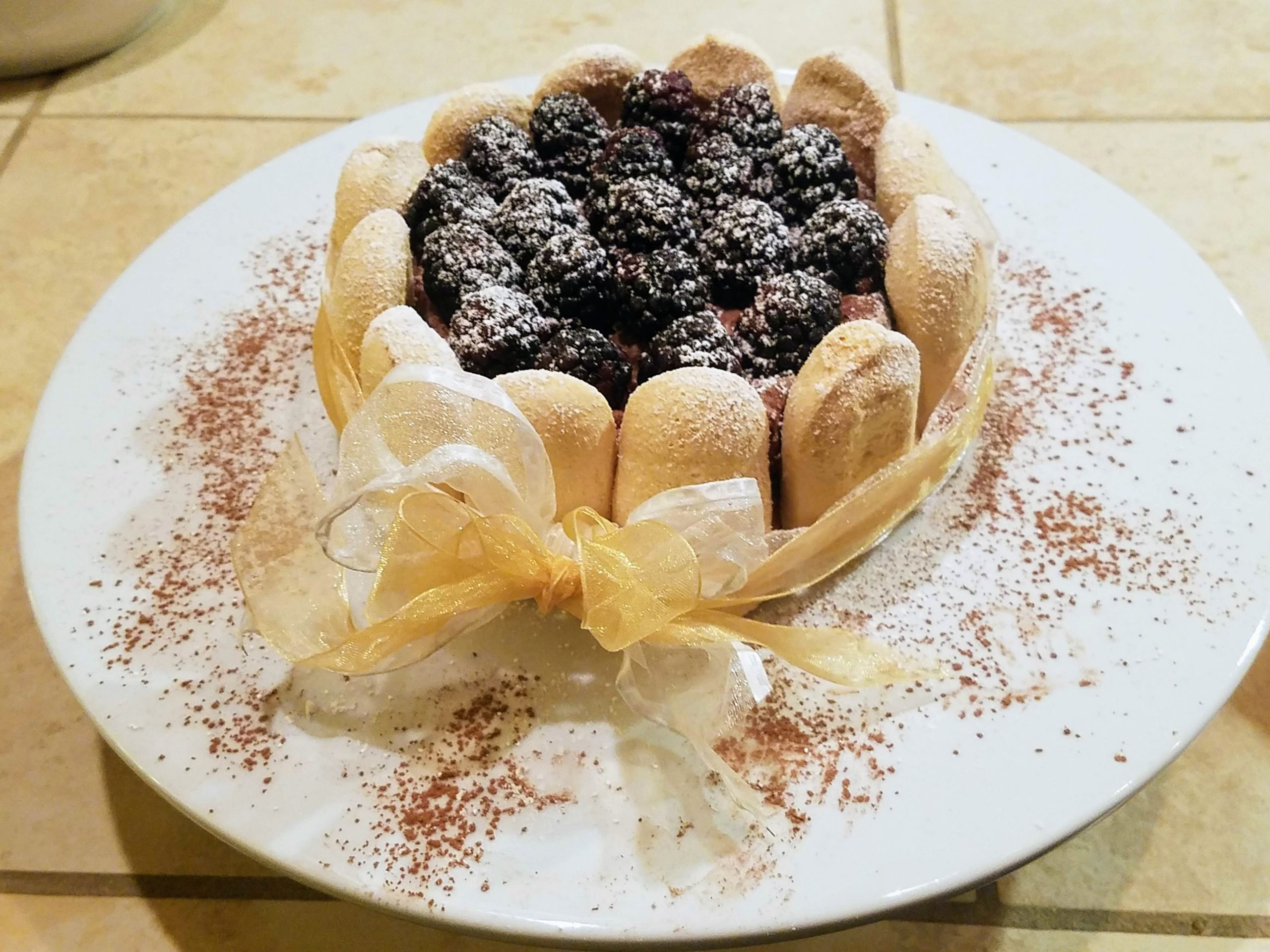 Gluten Free Charlotte with Dark Chocolate Cream and Blackberries
An easy no-bake dessert that can be enjoyed by all. They'll never know it's gluten free!
Ingredients
Cream filling
3 tablespoons softened butter

1/8 cup granulated sugar

3 egg yolks (from 8 minute boiled eggs, heat off sitting untouched in boiling water)

cooled

½ cup Guittard Extra Dark Chocolate Baking Chips (these are gluten free) or equivalent chocolate, 65% cacao

5 tablespoons heavy cream

1 tablespoon rum

1 teaspoon vanilla, gluten free
Bottom and sides of pan
3 tablespoons of rum

1 ½  – 5.3 oz. packages Schar Gluten Free Ladyfingers (approximately, depending on your pan size)

Top with berries of your choice

Dust with powdered sugar and cacao powder, gluten free
Instructions
Get you removable spring form pan (or cake pan) ready. Line the 6 or 7 inch pan with parchment circle to fit the bottom and parchment to fit the sides of the pan. Or you can line the entire cake pan with cellophane leaving an overhang to be able to lift the Charlotte out. Set aside.

In a stand mixer bowl, cream together the butter and sugar using whisk attachment, on medium for a few minutes and until combined. Add the cooked egg yolks and continue to cream together. Add the melted chocolate beating on high to until smooth. Add the heavy cream, beating until fluffy. Add the rum and the vanilla.

For the bottom of the pan, next pour the ¼ cup of rum into a flat bowl. Dip a ladyfinger into the rum for a few seconds, turning over to dip the other side, then lay in your parchment or cellophane lined pan. Continue to dip and lay the ladyfingers like this, breaking them as needed to fit into the bottom of the pan. Be sure to leave a ½ inch edge around the pan to fit the ladyfinger that will stand on its edge. Fill the center with the cream and smooth, bringing over the touch the insides of the ladyfingers. Top with berries.

Cover with cellophane and refrigerate for 4 hours or until chilled.

Remove the Charlotte by either removing the bottom of the spring pan or pulling up on the cellophane gently the cake pan does not have a removable bottom. Plate and decorate with a ribbon and a dusting of powdered sugar or cacao powder.