A classic dinner of Sweet Marinara and Crispy Gluten Free No Bread Meatballs, served over gluten free pasta. No need to replace the bread for gluten free in these meatballs! You can just omit the bread completely, and let the garlic, fresh Italian parsley, and parmesan cheese, be the co-stars in this dish.
The marinara has so much sweetness to it, using both vine ripened tomatoes and Trader Joe's Sun Dried Julienne Cut Tomatoes. This is the perfect satisfying meal!
I serve over my favorite gluten free pasta imported from Italy, Le Veneziane Capellini. After dinner, serve a little limoncello to tame the garlic on your breath! I was in the mood for something a bit more creative in documenting the recipe, so, I apologize if it's a little difficult to read (the watercolor pens were not quite as easy to write with!)
I hope you enjoy this meal. It reminds me of my growing up years and dinners at my grandparents and at our own house. My grandma and mom both served spectacular meatballs and red sauce!
~Laura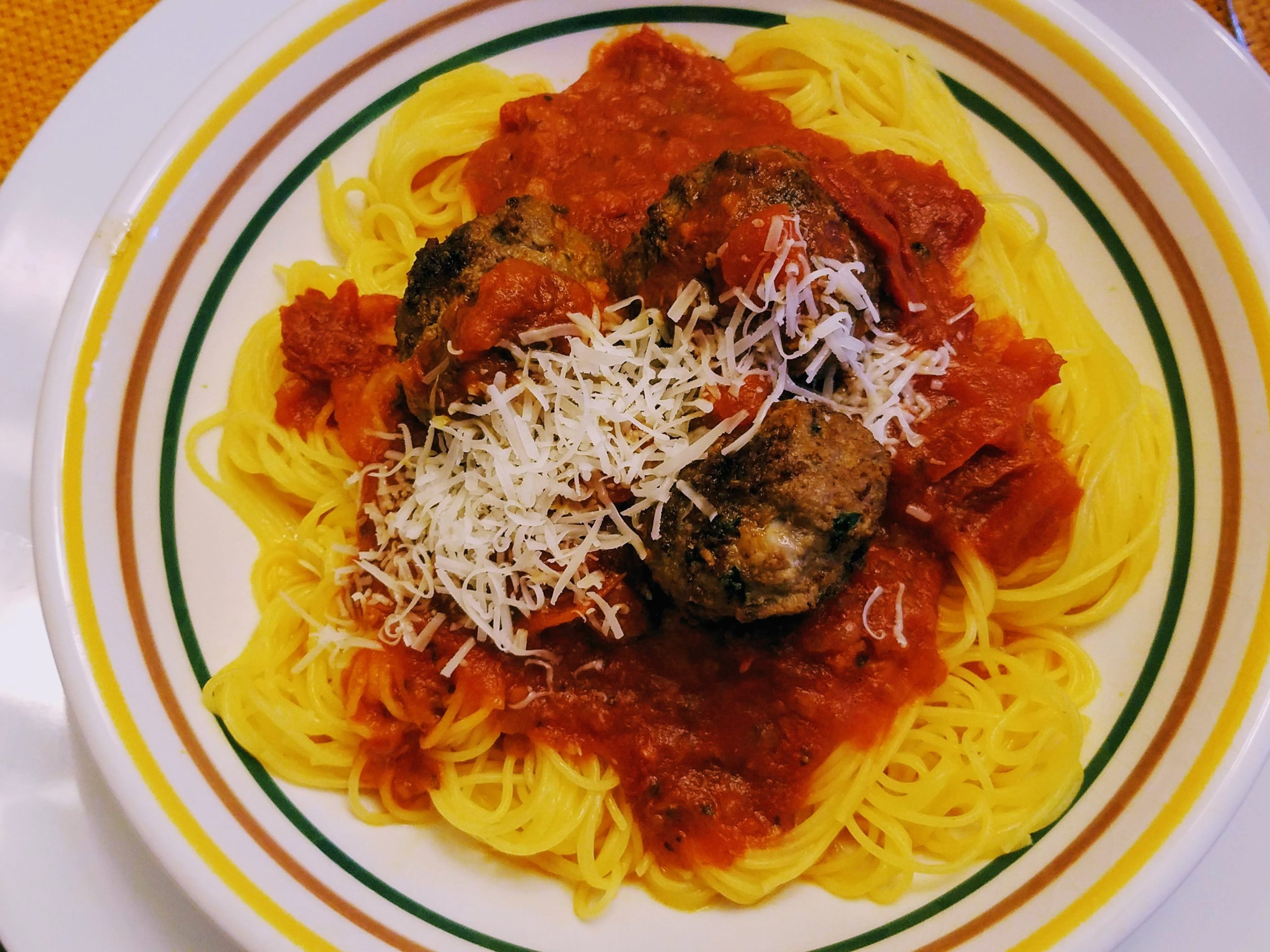 Sweet Marinara and Crispy Gluten Free No Bread Meatballs Over Gluten Free Pasta
The amazing smell of this marinara sauce and crispy no bread meatballs will fill your house! Then you'll stuff yourself because it tastes so delicious!
Ingredients
Sweet Marinara Sauce
1/2 small onion, minced

4-5 cloves garlic, minced

2 1/2 tablespoons of extra virgin olive oil

1/2 -3/4 teaspoon salt, more to taste

1 1/2 cans (6 oz.) tomato paste

2 cups fresh vine ripened tomatoes, chopped

1/2 cup Trader Joe's Sun Dried Julienne Tomatoes, chopped

1 tablespoon red wine

1 teaspoon of dried basil, gf

2 1/2 – 3 cups water 

a handful of torn fresh basil leaves
Crispy Gluten Free No Bread Meatballs
12 – 14 ounces of lean ground beef

3 large cloves garlic, minced or pressed

1 large egg

1/2 cup grated parmesan cheese

1/2 teaspoon salt

1/4 teaspoon black pepper

1/8 cup chopped Italian flat leaf parsley

1 tablespoon of extra virgin olive oil for frying
Instructions
Sweet Marinara Sauce
Sauté the onion in the olive oil in a medium saucepan, until the onion is very soft, stirring often. Add the garlic and sauté for about 30 seconds. Add the remaining ingredients, except the torn basil leaves.

Simmer for 1-1/3/4 hours. Then add the torn basil. Serve over gluten free pasta of your choice, topped with Crispy Gluten Free No Bread Meatballs and grated or shaved parmesan or pecorino cheese.
Crispy Gluten Free No Bread Meatballs
In a medium bowl, stir together with a fork, the ground beef, the garlic, egg, parmesan cheese, salt, pepper and parsley, until thoroughly combined. Using clean hands is fine too!

Heat a large skillet or cast iron with the olive oil, over low heat. Roll the meat mixture into 1 1/2 inch balls and set on a plate.

Turn up the heat under the skillet to medium high or high heat. Place the meatballs in the skillet, spacing them apart. Cook over medium heat for 13 -15 minutes, browning all sides to crispness.

After the meatballs have browned, cover for a few minutes with a lid to completely cook through. Remove the lid near the end of cook time so they maintain their crispness. I often will cut into one to make sure these are done, and just because the smell is so tantalizing that you just can't wait.

Serve these on top of gluten free capellini or gluten free spaghetti covered with Sweet Marinara Sauce.