Jump to Recipe
Print Recipe
~Rich but not too Sweet~
This is pure yumminess! And the best part is, that tortes are very easily made gluten free, as they have very little or no flour. Instead they have lots of eggs, separated and whipped, butter and dark chocolate (for the chocolate version).
You can make this recipe with or without the cinnamon and ancho chili powder of coarse, or even add a dash of cayenne pepper if you like. This is the variation I like to make for fiestas. Cinnamon and chocolate just taste like we're in Mexico!
It's the perfect dessert, rich, but not too sweet. That's definitely my preference for a dessert. I'm sorry if you can't have dairy. You could definitely use substitutes for the dairy, though, using dairy free butter and a thick almond milk or almond, coconut creamer for the heavy cream.
I use this torte recipe for many a birthday party or holiday dessert, because it makes a statement with it's beautiful finished picture. Adding raspberries inside with a layer of lightly sweetened whipped cream, or with chocolate mousse in a layer, and topped with whipped cream, decorated with piping and raspberries, makes it look and taste nothing short of perfect. There is something magical about dark chocolate and raspberries.
One trick to making this torte, is to fold a third of the beaten egg white into the chocolate mixture, very gently and carefully being sure not to over fold. Then fold in the next one thirds, and finally the last portion. If there are a few flecks of egg white left in the torte, it is better to simply leave them, than to over mix and risk the egg white falling. Shaking the granulated sugar in to the egg whites once small bubbles have started forming, keeps the egg white from getting stiff and dry, which will not allow it to fold in smoothly and be fully incorporated.
One nice thing about this torte is that you can make it the day before you plan to eat it. Just let it cool completely in the springform pan, before covering the pan with foil. The following day, remove the foil and springform side, move to a cake stand and decorate.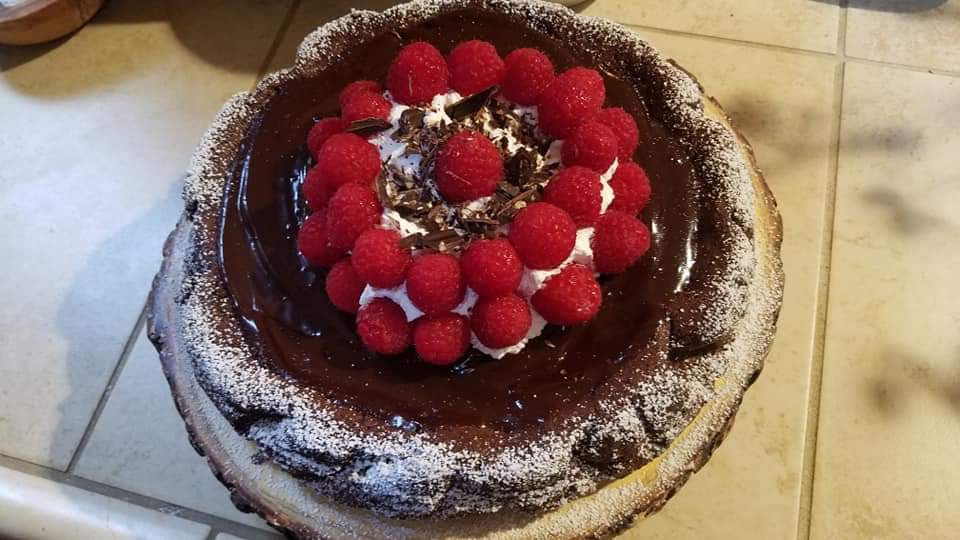 Spiced Dark Chocolate Torte (Gluten Free)
Ingredients
12 ounces

chocolate

very dark, good quality (gluten free ~ I am using Guittard Semi Sweet)

1/2 cup

butter

(1 stick)

6 large

eggs

separated

pinch of

salt

2 tablespoons

heavy cream

1 tablespoon

vanilla

(be sure to use a gluten free brand)

2 tablespoons

cognac

(totally optional, and the alcohol cooks out)

2 tablespoons

strong coffee

1/2 cup

toasted almonds

ground fine in a vitamix or food processor

1 tablespoon

gluten free flour

(1 for 1 all purpose gf)

1/2 cup + 2 tablespoons

sugar

1 teaspoon

ground cinnamon

gluten-free

3/4 teaspoon

ancho chili powder

gluten-free

dash of

cayenne

(optional – leave out if you do not want any hotness)
Glaze
2 tablespoons

butter

4 oz.

dark chocolate chips

2 tablespoons

heavy cream

1 tablespoon

espresso

or cognac (optional)

1 teaspoon

vanilla
Instructions
Place the oven rack in the center position and preheat oven to 350. Cut a piece of parchment large enough to cover the bottom and sides a 10" springform pan. Fold the parchment on the edges a bit to fit inside your pan. Lightly grease with oil or butter, and shake in 1 teaspoon of flour. Set aside. 

Add the chocolate and the butter in a small saucepan. You can choose to double boil the chocolate and butter (small saucepan over a larger saucepan with an inch of simmering water) or just use a very low, smaller burner for melting the two ingredients. If you do choose to put the pan directly on the burner, however, be sure you don't burn your chocolate. Stir often. Once the butter has almost melted completely, remove the pan from the burner. Let sit while you move to the next step.

Separate your eggs, egg whites to a large bowl if using a hand mixer or to your Kitchen Aid or stand mixing bowl, and egg yolks to a smaller bowl. Whisk into the egg yolks, the heavy cream, vanilla, cognac, and coffee. Whisk until smooth.

In a small bowl, combine the ground almonds with the 1 tablespoon of gf flour, and add cinnamon, ancho chili powder, cayenne if you wish, and 2 tablespoons of sugar.

Whisk the egg yolk mixture into the melted chocolate (okay, I just do this right into the saucepan, for ease). Then add the almond/flour mixture to the saucepan of chocolate mixture. Stir until smooth. 

Beat the egg whites in the mixer bowl, with either the stand mixer or hand mixer. Start on low, to incorporate and stabilize the egg whites. Then increase speed to medium and continue beating until small bubbles are beginning to form. Shake the 1/2 cup of remaining sugar in slowly and the pinch of salt, with the mixer on and continue beating until glossy peaks form.

Using a rubber spatula, fold one third of the egg white gently into the chocolate mixture, then gently fold the chocolate mixture into the egg whites in two steps, folding very gently after each addition. Once chocolate and whipped egg whites are incorporated, you are ready to pour into the prepared springform pan. Note: Be sure not to over fold, as the egg whites will fall and your torte will not be light and airy.  

Scrape into the springform pan and smooth the top of the torte. Place gently in the oven (middle rack) and bake for 33-40 minutes, until a toothpick comes out clean. Cool torte in the pan on a wire rack. Don't worry if it falls a little in the center of the cake. It is all part of the torte! I use this little lip on on the cake  top for whipping cream and other decoration. It you like, you can always put this side down and have the flat side up. 

If you choose to assemble the following day (this will keep a day at room temperature if not assembled), simply cool completely in the pan, then cover with foil. If you wish to assemble the same day, cool in pan or 15-20 minutes, then remove the springform ring and turn out unto a cake plate, then loosen the parchment and pull off. Next, turn the cake over unto another cake plate to have the original side up. You can also freeze the torte for several weeks.

A glaze over the top of the torte is a perfect way to finish. Sometimes I just shake powdered sugar over a paper doily on top of the glaze for a nice simple finish. Just be sure to do this right before serving as the sugar will melt into the glaze. Also adding a few pesticide free flowers from the garden makes a stunning, beautiful effect. Lightly sweetened whipped cream piped in a decoration or on the edges of the torte, is also a perfect presentation, along with raspberries or strawberries. The Gluten Free Spiced Chocolate Torte can also have a simple mound of whipped heavy cream (2 tablespoons of powdered sugar whipped with one pint of heavy cream, and 1 1/2 teaspoons of vanilla). Then sieve a small amount of cinnamon and chili powder over the top. That's literally all it needs!
Glaze
Melt butter, chocolate and heavy cream in a small bowl for 25 seconds in the microwave. Stir until smooth. Add espresso, cognac and vanilla.