Hello from Santa Cruz, California! Here, with Sequoia Semperviren Redwoods all about us, we have some trees changing color, but mostly we are starting to feel a little fall in the weather! The afternoons have still been fairly warm, but the night and morning temperatures are cooling! Turning the oven on to bake a little something sounds delightful! Today I'm going to be going over some tried-and-true Gluten Free Thanksgiving Tips – pointers that can hopefully help anyone cooking for loved ones who are gluten-free eaters!
What are you favorite fall recipes? Are you thinking about Thanksgiving yet and settling on your plans, or is it too early? I love Thanksgiving, the colors, the yummy fall dishes, and getting the family together! Do you like to try new dishes for Thanksgiving, or do you prefer the more traditional recipes?
Do you enjoy hosting or would you rather to head to someone else's house?
I love to host, because then I can eat without fear of getting sick. For me, with my ultra sensitivity to gluten, I have to pay attention to everything from the turkey (yes, many turkeys contain gluten in the broth or additives), to the spices and the broth in the gravy, the other dishes which may contain ingredients that were even just processed in a factory which also processes wheat or gluten containing ingredients.
I also love having people in my home to do what I can to create a space where they can relax and just enjoy the day. This love of creating extends to decorating and creating delicious food items for everyone to enjoy!
Gluten Free Thanksgiving Tips
~ Just a few helpful tips I've found when hosting ~
Ask your guests in advance if they have any allergies.
If you have any guests with allergies, it's a great idea to let them know which items they will be able to enjoy. Then, they can choose to bring a little something extra to add to the dinner.
Also, labeling your dishes (on a buffet table) with allergen information is very helpful.
Remember to retain any packaging or take photos of packaging in case your guests have questions.
Ask your guests with any allergies to please go through the buffet line first (or serve a plate in the kitchen before food comes out). This way they will not be exposed to cross contamination, which can result in very severe sickness for many.
I'll be bringing several dishes to our Sunday family gathering and we may even host a small Thanksgiving on Thursday also. My husband would prefer to have a good steak or tri-tip for Thanksgiving! But as long as I make his favorite wild rice stuffing, The Best Ever Savory and Sweet Rice Stuffing, he will be content. He also, like me, loves getting together with the family, visiting with the grandkids and adults, and enjoying good food and drink.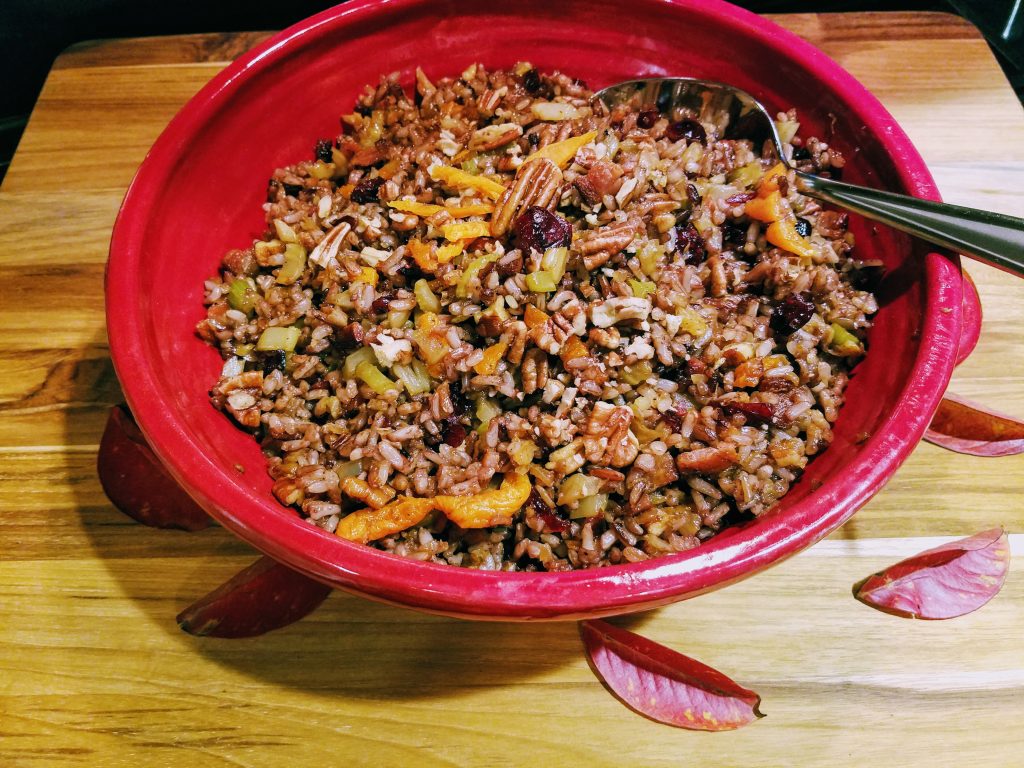 Choose to simplify this year
Maybe choose to simplify this year and make a roasted chicken or turkey breast, or I've seen several recipes using cut up turkey instead of a large whole turkey. Whichever you choose, simply choose what's right for you and your family, and most of all keep it stress free. I always have to remind myself that it's just about being together, not about creating a perfect flawless meal of dozens of dishes! 
Appetizers or just a loaded charcuterie board?
If you want a yummy appetizer for your holiday gathering, try these Brie and Cranberry and Brie and Fig Bites in a Flaky Gluten Free Pastry. Yummy! I could just literally eat 4-5 of these and skip dinner if needed! You can use frozen gluten free pie dough to save time preparing these. Make them in the morning and just heat them for the afternoon appetizer.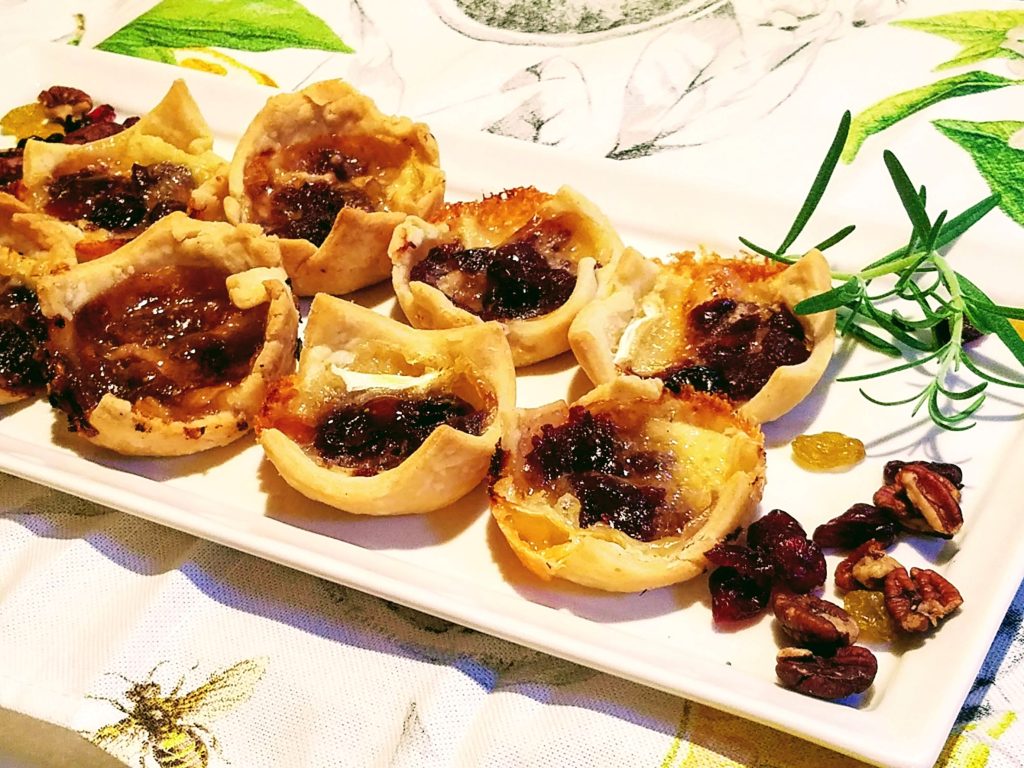 You can also skip the stress of making a warm appetizer and make a simple charcuterie board which can be chilling for several hours before your guests arrive! Arrange various cheeses and meats, nuts, and dried or fresh fruit on a gluten free surface. Keep any allergen items in bowls for your nut free guests or make a smaller nut free board and label it safely.
Add gluten free crackers to the board or platter or a few bowls of gluten free crackers nearby so you won't have any cross contamination. Artichoke spread, fig jelly, spiced nuts, and olives are all great additions too. Some fall colors, colorful leaves, or mini pumpkins make it festive too!
A few of my favorite gluten free crackers
Some of my favorite gluten free crackers are Milton's Gluten Free Crispy Sea Salt or Mary's Gone Crackers Real Thin Made with Real Organic Ingredients, Gluten Free or Rosemary variety are so good. Simple Mills Gluten Free Crackers are so light and yummy too, but they do contain nuts, so be sure to label or omit these from your spread if you have any nut allergies.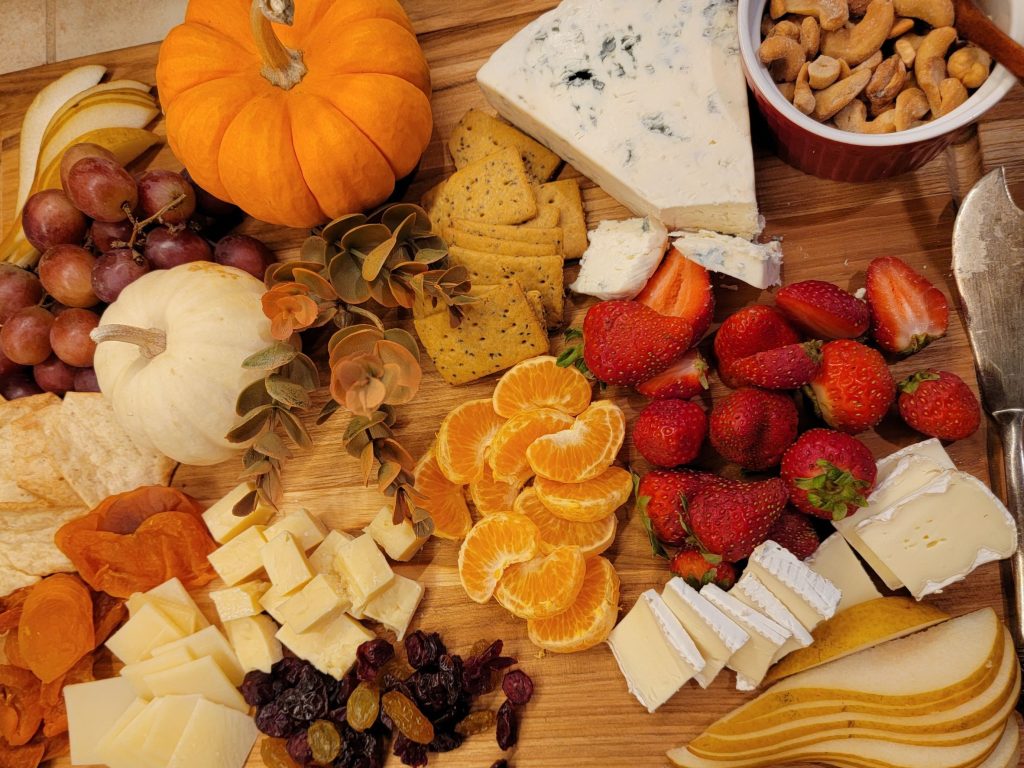 More tips on making the day stress free
There are lots of tips available to keep you holidays stress free. Bon Appetit's Thanksgiving Issue has some great tips from Ina Garten. I, like Ina, like to make a detailed plan of what I will work on each day so not to be overloaded the day of.
Cleaning the house and setting the table can be done a few days in advance. Setting up your spaces for drinks and desserts also can be done early in the week if you have space.
Pie crust doughs can be frozen or refrigerated for several days. Stuffing and sweet potato casseroles can be prepared a few days in advance. Cranberry sauce can be made and kept refrigerated for several days. Even mashed potatoes can be prepared the day before. Just add a few pats of butter before reheating in the oven, covered with foil.
Cover each precooked item before reheating in the oven at 325 degrees. Items can even be microwaved if you need to, for lack of oven space.
I like dry brining the turkey best, but there are so many ways to get great tasting moist turkey. Tucking herbed butter under the skin is one of my favorites! I have never had a turkey turn out dry with this method. Also, be sure to baste with the drippings at least 2 or 3 times during the baking.
Ask your guests to bring a little something
Ask your family and friends to bring what you need to help you not do as much. Keep in mind what they can travel with if they are coming a distance. Or let them pick up the ice cream or some drinks on the way. Most of all, keep it as simple as possible to enjoy the day to the fullest!