Easy meal tonight! A simple pulled pork loin, which is an extremely low fat piece of meat and is also very reasonably priced. This recipe also only uses pure maple syrup as the sweetener in the sauce, as I try not to eat processed sugar when possible. I use ketchup as a quick base in many barbeque sauces, but it too has a high sugar content, and is really high once you add in lots of brown sugar! This dinner is so easy, just brown the meat and let it cook in the oven, I use a Dutch oven (did I mention this is my favorite cookware!), throwing part of the sauce on midway through the cooking. You can serve this over yummy ciabatta rolls if you don't need to eat gluten free, or a homemade or store bought gluten free roll. Okay, most of those are not very good. I'll try to post a nice gluten free roll recipe soon! Serve the roll, stacked with meat, with a salad, or some corn-on- the-cob and watermelon, during summer months. I was running late and needed to go out after dinner, so I simply had mine with a few tortilla chips. I had already had a bunch of veggies in my smoothie for lunch! My husband had his over some hash brown potatoes. Don't forget to pass the extra sauce with this and let people put as much as they like on their rolls, before loading up with the pork. You could also do a spicy version of the sauce, adding some Aleppo pepper or crushed red pepper.
~Laura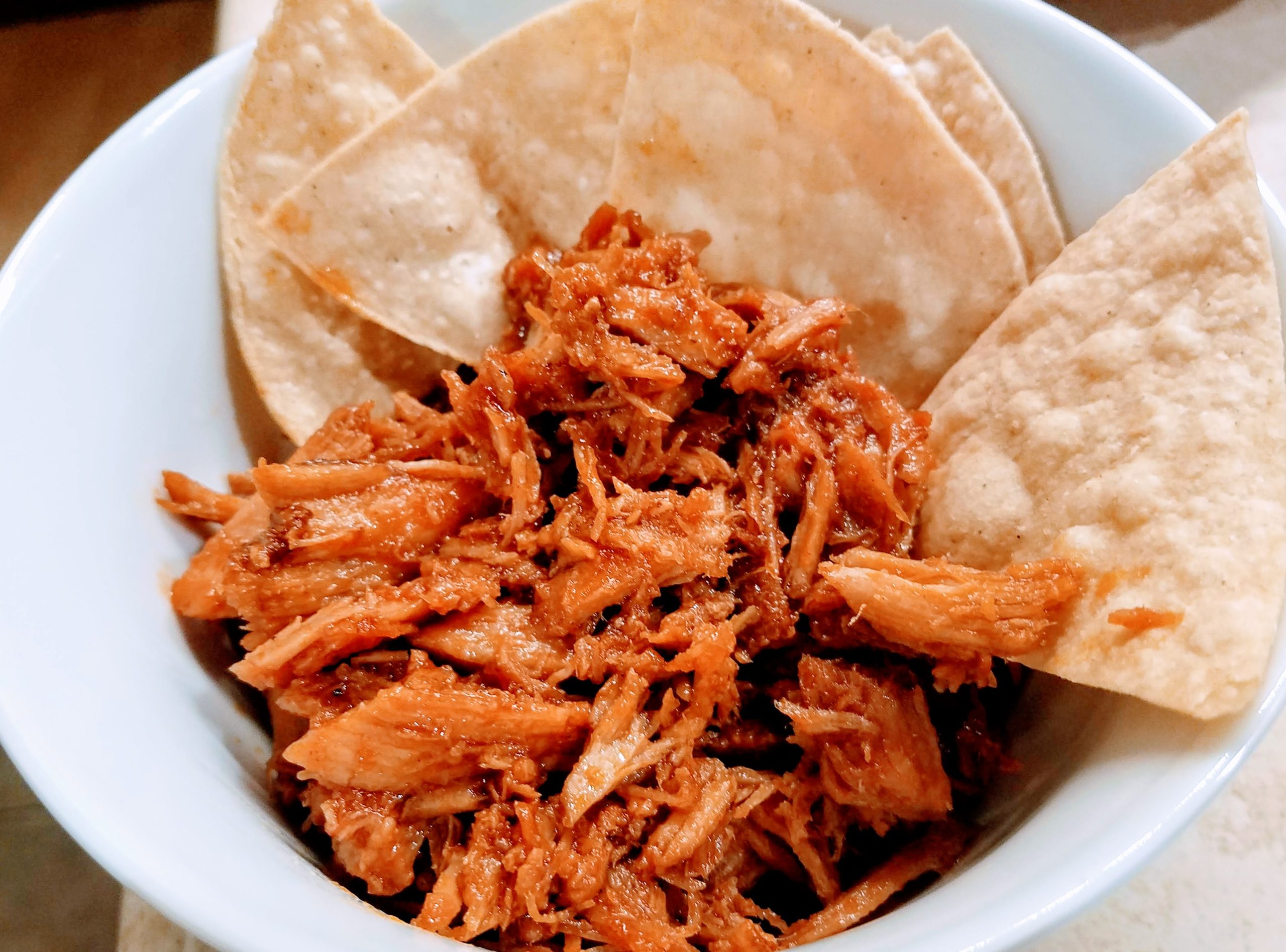 Low Fat and Low Sugar Pulled Pork (with Maple Syrup and No Processed Sugars)
Ingredients
3 pound 

boneless pork loin

cut into 2 x 3 inch cubes (if you want to use a fattier piece of meat the pork shoulder will be amazing and tasty, but much more fat!)

2 teaspoons

salt

1 teaspoon

garlic powder

¼ teaspoon

pepper

1 teaspoon

paprika

¼ teaspoon

coriander

2 tablespoons

olive oil
Sauce
¾ cup

pure maple syrup

½ cup

tomato paste

unsalted

2 teaspoon

spicy brown mustard

1 teaspoon

salt

½ teaspoon

garlic powder

½ teaspoon

paprika

2 tablespoon

white vinegar

5 tablespoons

balsamic vinegar

2 teaspoons

sherry vinegar

4 tablespoons

water

½ teaspoon

black pepper
Instructions
Preheat the oven to 300 degrees F.

Sprinkle the meat with the salt, pepper, paprika, garlic powder, and coriander, over all sides.

Heat 2 tablespoons of olive oil in a Dutch oven over high heat. Add the pieces of meat, turning to brown each side. Add 2 tablespoons of water to the pan. Cover the Dutch oven and put in the center rack of oven and cook for 1 ½ hours.

Add  1/3 of the sauce and continue cooking at 300 for 1 -1 ½ hours, covered, or until pork is very tender and pulls apart very easily. Remove from oven and pull the meat apart using two forks. Add 1/3 more of the sauce and stir in, covering the meat.

Serve on toasted gluten free rolls or other rolls . Makes 4 -5 servings. 
Sauce
Stir together all the ingredients in a small saucepan and cook on very low for 10-15 minutes. Reserve one third of the sauce for passing when serving. Add one third of the sauce to the meat after 1 ½ hours of cooking. Add another third in after the meat finishes cooking and prior to serving.