I find there are two kinds of people in this world. Those those that like yams and sweet potatoes and those that detest them. We have a few in our family that don't love (or even like them) and a few that love them! Maybe it's a texture thing?! If they tried these though, they might decide they liked them after. Topped with buttery, maple and sugary goodness, gooey marshmallows, and pecans…it's hard to go wrong!
These are the perfect side for Thanksgiving. Served with any dinner, they scream fall goodness. Try them with more spice if you like. Pair them with Pork Tenderloin with Apricot Brandy Sauce and a Fall Salad with Mandarins, Fuyu Persimmons, and Pomegranate and you'll have the perfect fall meal.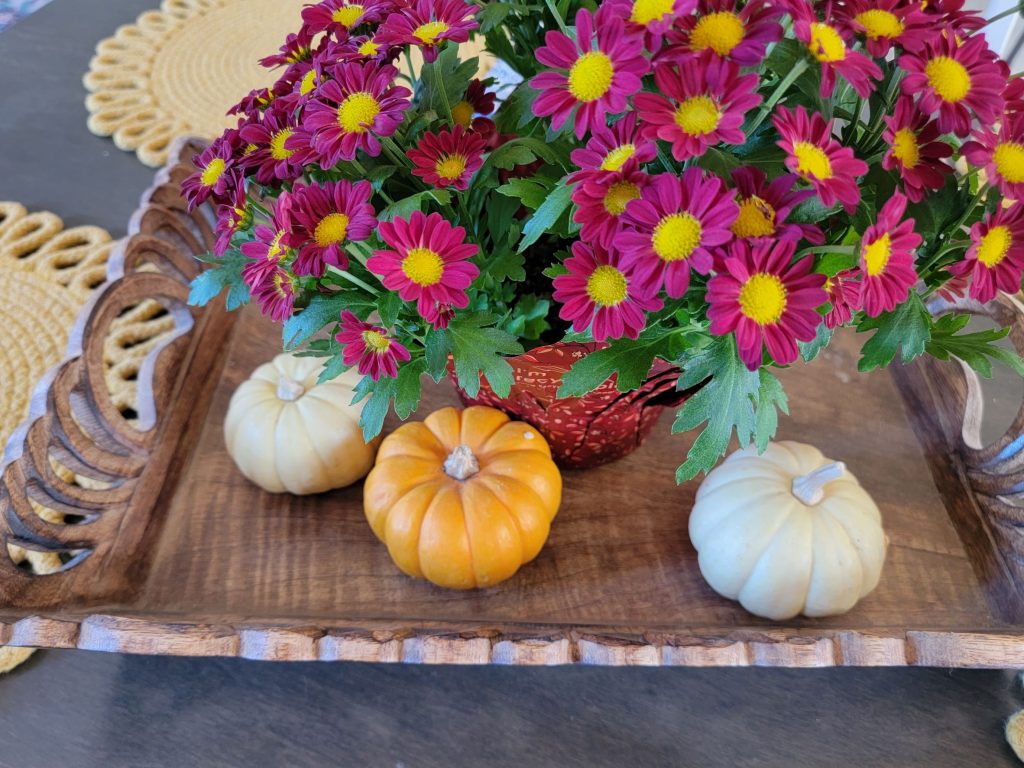 Trader Joe's Mini Marshmallows and Marshmallows are certified gluten free and vegan
I love Trader Joe's Mini Marshmallows which are not only gluten free but also vegan! They also seem healthier somehow so I don't mind giving them to granddaughter Maddie on her hot chocolate!
They are all natural, without any preservatives or artificial flavors. They contain pure cane sugar instead of high fructose corn syrup. Completely without gelatin, making them completely vegan and vegetarian. Plus they are certified gluten free, where many other brands are not.
Make these in advance if needed ~ Reheat then add the toppings and brown lightly
You can make this in advance but I would just keep the marshmallows, pecans, and maple syrup off the top for the majority of reheat time.
Just reheat covered with foil without the toppings in a 350 degree oven for 15-20 minutes. Add the toppings and increase the oven temp to 425 for 5-10 to brown the marshmallows.
They should be a nice light golden brown. Add chopped pecans to the top with a final sprinkle or nutmeg and cinnamon.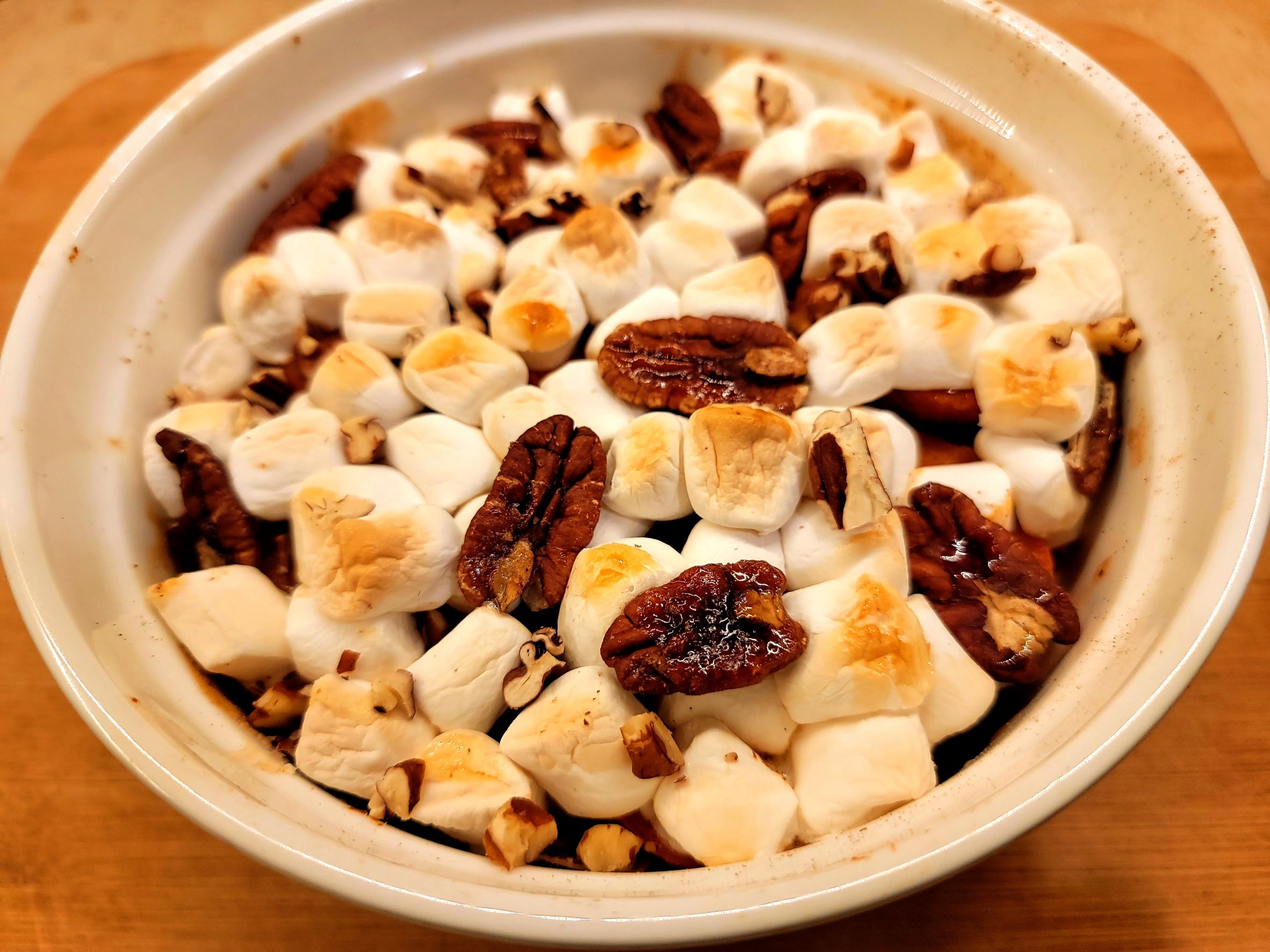 Less Sugar, Candied Sweet Potatoes (Gluten Free and Vegan Option)
These less sugar, gluten free (with a vegan option) sweet potatoes are a great choice to put on your table for the holidays or just a fall dinner.
Equipment
1 4-5" deep casserole dish

or other casserole dish
Ingredients
2 ¼ – 2 ½ lbs. sweet potatoes

scrubbed and unpeeled

½ teaspoon Kosher salt

3 tbsp pure maple syrup

3 tbsp brown sugar, light or dark, packed

3 tbsp butter or dairy free or vegan butter

gf

1 tbsp Grand Marnier, optional

1/8 teaspoon cinnamon

gf

1/8 teaspoon nutmeg

gf

1 1/2 cups Trader Joe's Mini Marshmallows

gf and vegan

1/2- 3/4 cup pecans, whole, halved

a few chopped to top after baking

2 tbsp maple syrup

drizzle on top
Instructions
Poke the unpeeled sweet potatoes with a sharp knife in the center. Boil whole in a large saucepan or stockpot covered with water and salt until tender, about 25-30 minutes.

Stir together the melted butter, brown sugar, maple syrup and Grand Marnier.

Preheat the oven to 375 degrees. Oil the casserole dish.

Remove the sweet potatoes when they are tender to a plate to cool. Peel the sweet potatoes. Slice into ¼" thick slices.

Layer the sweet potato slices with the butter sugar mixture, dividing between the layers and reserving enough for the top layer. Bake for 15 minutes.

Remove from the oven. Add mini marshmallows and pecans interspersed on top. Drizzle with remaining 2 tablespoons of maple syrup. Bake 10 minutes more.

Increase oven temperature to 425. Bake 4-5 minutes until marshmallows are light golden brown. Add reserved chopped pecans and a sprinkle more of cinnamon and nutmeg.