Jump to Recipe
Print Recipe
Is there anything more perfect than a tube of pasta stuffed with a yummy filling and covered in a creamy bechamel (besciamella) sauce? I think not! Add a small amount of marinara and you'll have the perfect contrast of sauces!
I have loved manicotti and cannelloni for so many years, but up until more recently these tubes made gluten free were very hard to find. I would sometimes make manicotti or cannelloni for my family and not get to enjoy or sometimes I would substitute gluten free crepes for my portion, before there was a good product available.
Recently, I decided to give Jovial Organics Gluten Free Manicotti Pasta shells a try. They are quite good, and if you want an organic gluten free option, these are perfect. I even tried without a par cook and they cooked perfectly (although the shell is not stuffed as full as when par cooking is not done compared to par cooking the shells for a few minutes. Although these shells aren't smooth, which I prefer in a cannelloni shell, they do the trick! It's really about the sauce and the filling in these. I have still to try the fresh Taste Republic Gluten-Free Lasagna Sheets, which should work nicely also.
Buon Appetito!
~Laura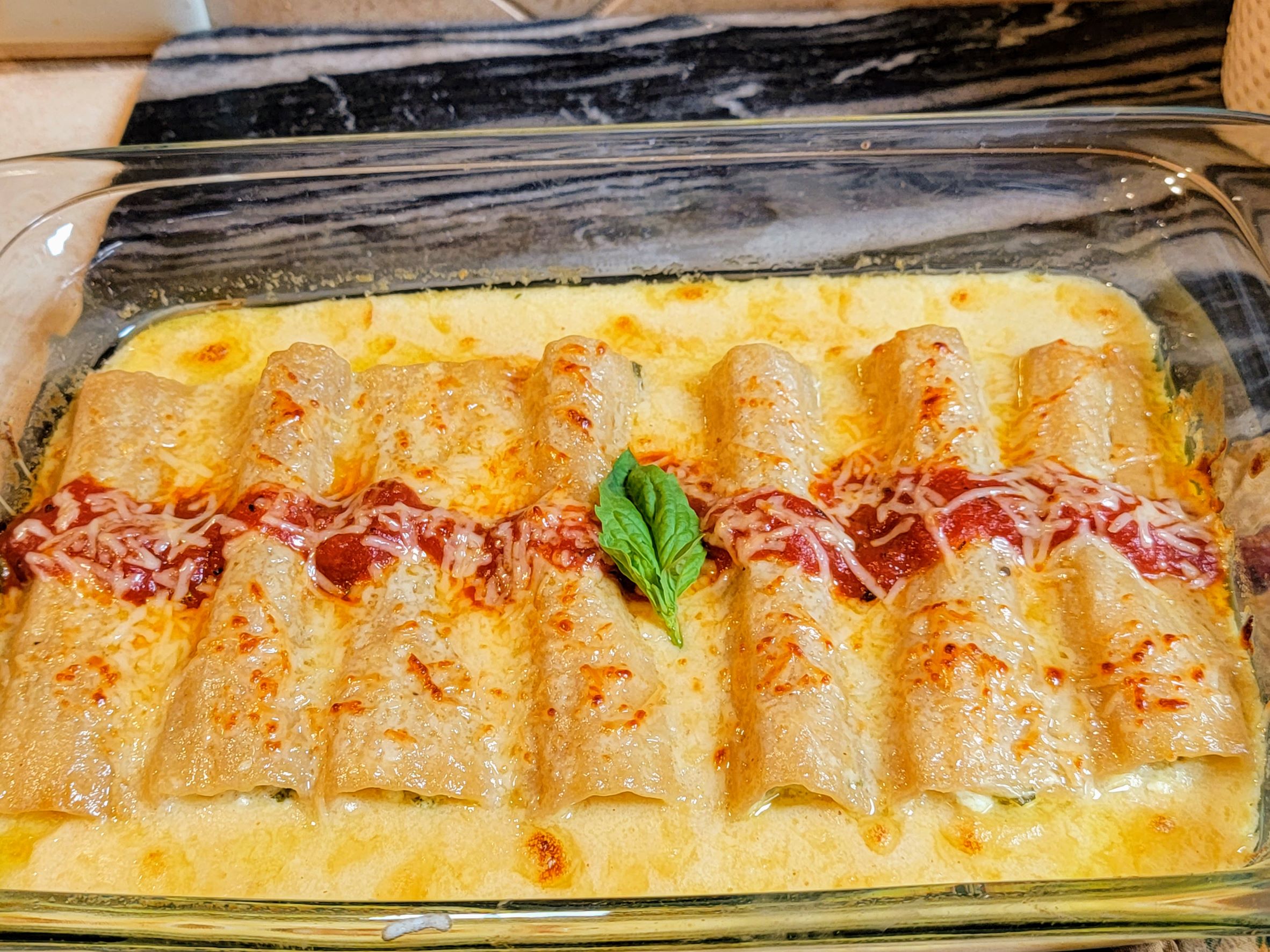 Chicken and Cheese Cannelloni in a Bechamel Cheese Sauce (Gluten Free)
Gluten Free Cannelloni is a special treat! Even though it's not difficult to make, or even hard to find the gluten free shells, I find this one to bring almost tears of joy as I dig in to the delicious tubes of pasta filled with three kinds of cheese and chicken, and topped with the creamy Bechamel sauce (and more cheese)! You can make these for your non gluten free guests and they won't even know the difference probably. This has always been a favorite of mine and now I can enjoy these anytime I would like them!
Ingredients
1 package – 7 oz. Jovial Organic Brown Rice Gluten Free Manicotti Pasta

Chicken and Cheese Filling (recipe below)

Bechamel Cheese Sauce (recipe below)

½ cup mozzarella, for topping

¼ cup parmesan for topping

¾ cup Marinara Sauce, optional, for topping
Chicken and Cheese Filling:
2-3 large boneless chicken thighs or boneless chicken breasts or 1 ½ cups cooked diced chicken

1 cup of gluten free chicken stock, homemade or purchased, not needed if using pre-cooked chicken

2 cloves garlic, crushed finely chopped

¼ cup fresh basil, chopped

¼ cup flat leaf parsley, chopped

⅔ cup mozzarella cheese, grated

¼ cup parmesan cheese, finely grated

12 ounces whole milk ricotta

2 large eggs

¼ – ½ teaspoon ground black pepper

½ teaspoon Morton's Kosher Salt or ¼ teaspoon fine salt

A sprinkle of ground nutmeg, gf
Bechamel Cheese Sauce:
¼ cup unsalted butter or other unsalted butter

3 tablespoons of finely ground brown rice flour, gf

1 cup whole milk 

1 ½ cups of gluten free chicken stock, homemade or purchased

1 clove garlic, crushed or finely minced

⅜ cup mozzarella cheese, grated

¼ cup parmesan cheese, finely grated

Salt and pepper to taste

A sprinkle of ground nutmeg, gf
Instructions
In a skillet or cast iron, heat 1-2 tablespoons of olive oil or avocado oil. Dry the chicken thighs or breasts with paper towels and discard. Lightly salt and pepper the chicken. Brown the chicken pieces on each side. Pour in 1 cup of chicken stock, stir and cover with a lid and let cook for 5-8 minutes over medium or medium high heat. Continue cooking, adding a few tablespoons of stock to the skillet if it evaporates until chicken is tender and cooked through. Remove the chicken to a board to cool. Then chop the chicken thighs into small ½ inch pieces.

Pour the chicken pieces into a medium sized bowl. Add the garlic, basil, parsley, ⅔ cup mozzarella cheese, ¼ cup parmesan cheese, ricotta, eggs, salt, pepper, and a sprinkle of ground nutmeg. Mix together completely with a fork or spoon.

Prepare the bechamel sauce next. Melt the butter in a medium saucepan, stirring often. Add the brown rice flour with a whisk. Stir this roux for 3-5 minutes, to toast the brown rice flour. Add in the milk, 1 clove of crushed garlic, an ⅛ teaspoon of salt and a dash of pepper, and a sprinkle of ground nutmeg, and whisk together, stirring for a few minutes. Pour in the 1 ½ cups of chicken stock. Cook and stir over low heat for 5 minutes, until the sauce begins to thicken. Continue cooking for another 3-5 minutes over medium low heat. The sauce will thicken more as it cooks with the cannelloni. Remove from the heat. Add the ⅜ cup mozzarella and the ¼ cup parmesan and stir to melt. Add more salt and pepper to taste. 

Boil the manicotti or cannelloni shells a few at a time in 3 or 4 quarts of boiling lightly salted water for 2 minutes each. Continue until all the tubes have been cooked for 2 minutes. Rinse and drain. Set to cool.

Scoop the filling into a pastry bag with a ½ inch tip or a zip lock bag with a half inch opening cut.

Pipe the filling into the pasta tube, holding your finger over one end and piping with your other hand. You can also set each one on one end flat on a plate and add the filling from the top. Set each filled tube on a clean plate. 

In a 9 x 13" glass or ceramic baking dish, or two smaller baking dishes, add enough bechamel sauce to cover the bottom of the dish. Add the pasta tubes laying side by side and in 2 rows. If they do not fit in two rows, do one full row on one side of the dish and lay two side by side the other direction to fit. Cover with the remaining bechamel sauce. Add half of the remaining mozzarella to the top of the cannelloni.

Bake covered in a 375 degree oven for 30-35 minutes or until pasta is done when a pointed knife is inserted.

Top with a strip of marinara sauce down the middle of the cannelloni. Add the remaining cheeses spread across the top evenly.

Broil for 1-3 minutes to brown the cheese on top, setting the broiler rack one from the top. Let sit for 10 minutes or so before serving.