Jump to Recipe
Print Recipe
Today our hearts and prayers go out to the many people who have been issued evacuation orders, due to the fire debris that is expected to flow with the heavy rain (and wind) storms over the next few days. We are thinking of you all and lifting up prayers for your safety and for your homes to be protected in our valley that has been our home for since we were kids. In the midst of this, and the storms and power outages, we still need something for dinner. So…. what to have for dinner tonight? Sometimes I feel like I get in a rut with my meal ideas and recipes! But, something we haven't made for awhile is a stir fry so that sounds like a great idea for dinner. It's either that or take-out from Taqueria Vallarta, our local taqueria here in Felton (and Santa Cruz) which is always a great choice when we are too tired to cook! In this teriyaki stir fry recipe I use coconut aminos. You could also use a tamari sauce for making the marinade and sauce, but I like Trader Joe's Coconut Aminos as they are both gluten free and soy free, made only with organic coconut sap, water and sea salt. If you haven't tried them in place of soy sauce, give it a try and tell me what you think.
~Laura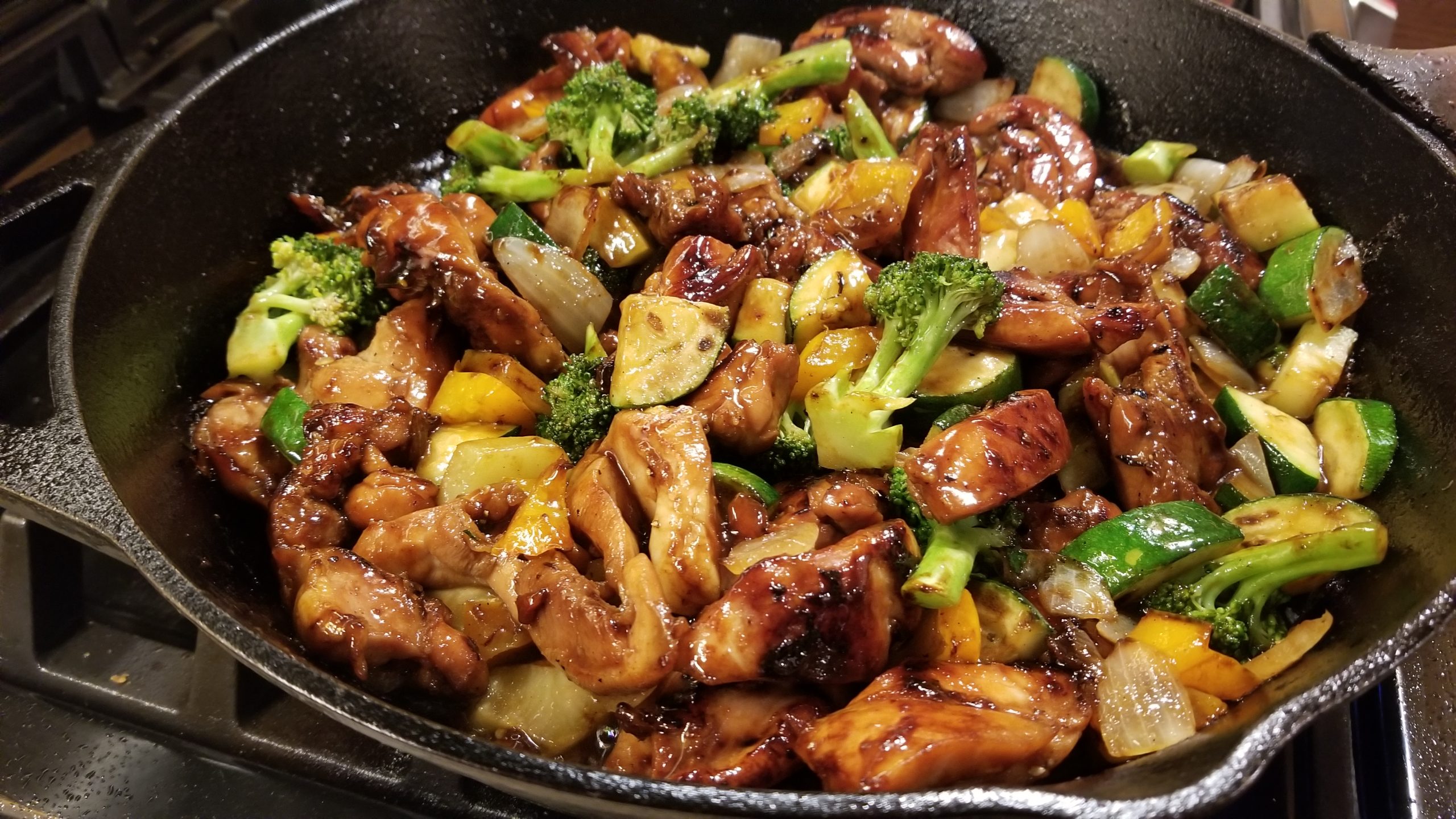 Gluten Free Teriyaki Stir Fry
Ingredients
4-5

boneless, skinless chicken thighs

cut into 1 x 1 ½ inch pieces (or close to that)

1 medium

onion

sliced and cut into ½" pieces

½

red bell pepper

sliced and cut into ½" pieces

½

orange or yellow bell pepper

sliced and cut into ½" pieces

1

broccoli stem and head

florets cut into 1 ½" long pieces and stem peeled and sliced into ¼" thick pieces

1 large

zucchini

cut into quarters lengthwise, then each strip into ¼" thick pieces

3 ½ tablespoons

olive oil

divided
Marinade:
1 tablespoon

olive oil

¾ cup

Trader Joe's Organic Coconut Aminos

gluten free

¼ cup, plus 1 tablespoons

pure maple syrup

¼ cup

packed brown light sugar

(1 or 2 tablespoons less for less sugar)

1½ teaspoons

sherry vinegar

1 teaspoon

garlic powder

gluten-free

1 ½ teaspoons

ground ginger

gluten-free

1 teaspoon

salt

¼ teaspoon

fresh ground pepper
Instructions
Stir together in a medium size bowl, the coconut aminos, maple syrup, brown sugar, garlic powder, ginger, salt and pepper. Pour ½ cup of the marinade into a small bowl to use for the sauce to top the stir fry. Add 1 tablespoon of cornstarch to the bowl of sauce and stir in completely. Set aside. This will be added to your skillet as the final step.

To the marinade bowl, add ½ tablespoon of cornstarch. Add the chicken pieces and marinade for 30-45 minutes.

Begin by setting a large skillet, a cast iron skillet if you have it, on high heat with 1 tablespoon of olive oil. Add the onion and bell pepper pieces to the skillet, stir and sauté until light golden and cooked. Remove to a small plate or bowl.

Microwave the broccoli pieces in a small covered bowl with a few tablespoons of water for 2 minutes on high, to par-cook.

In another tablespoon of olive oil, add the zucchini pieces. Stir to coat with the oil. Sauté the zucchini until browned and cooked through. Remove to the bowl. Add ½ tablespoon of olive oil if needed in the pan. Add the drained par-cooked broccoli to the skillet and stir fry until lightly browned. Remove to a small bowl or small plate.

Add ½ tablespoon of olive oil to the skillet and heat on high. Drain the chicken from the marinade and discard the marinade. Add half the chicken pieces to the skillet and cook and brown for 3-5 minutes, browning and cooking completely, stirring and turning often, and turning the heat down to medium if sugar is causing it to burn. Remove the chicken to a bowl. You may need to scrap out the skillet before adding the second half of chicken pieces to the skillet to cook. Heat the pan back up with ½ tablespoon of olive oil. Cook the next batch of chicken over medium high or high heat until cooked through.

Lower the heat to medium. Add the first batch of chicken back into the skillet. Next, add the vegetables back in to the skillet. Finally, add the sauce you reserved and cook over medium heat, stirring to coat the chicken and vegetables until the sauce thickens about 1 or 2 minutes. Serve over brown or white rice.