Fall and winter bring us all those delicious comfort foods, thick gravies, and richer cheesy foods too. Here's an easy version of gratin potatoes. I love my other recipe, but these are easy with simple ingredients (once you slice the potatoes very thinly). No roux and cheese sauce to make for this recipe!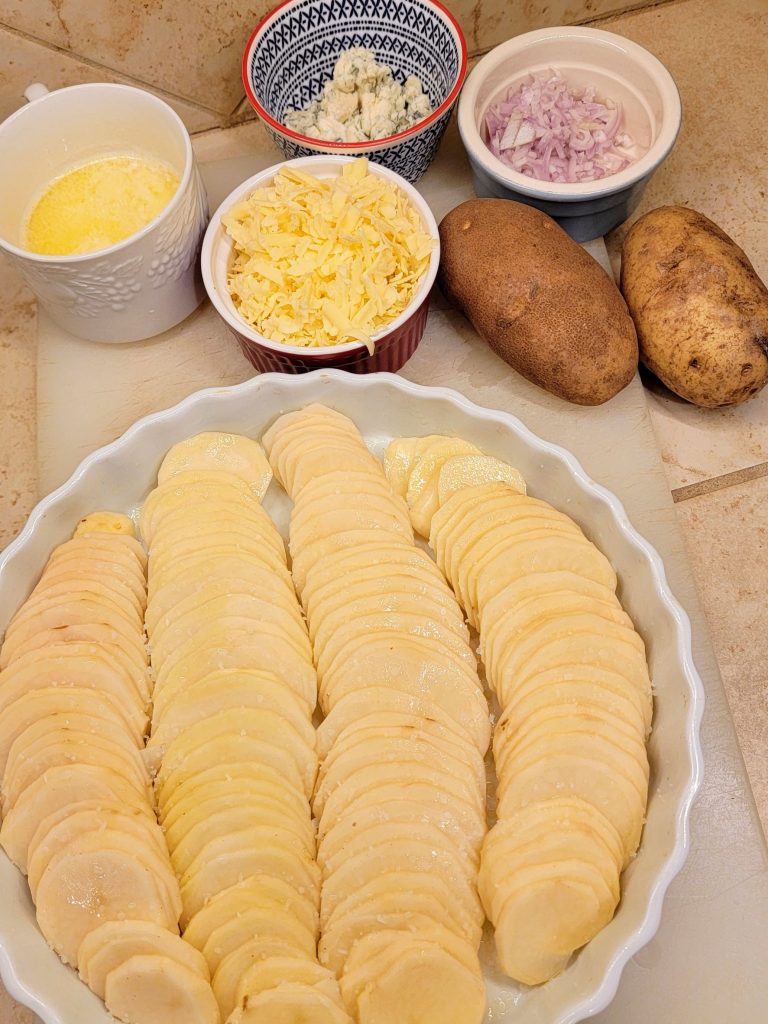 If you don't have a Mandoline slicer, be sure to use a very sharp knife. If you are looking to purchase a new chef's knife or knife set, I love my Paudin Kitchen Knife Set. The chef knife is easy to handle and feels secure in my hand. It's so great when cooking to have a sharp knife!
Also my OXO Mandoline slicer rated #1 Best Choice Mandoline Slicer on Best Product Reviews. I have a slightly older model of it than the one I've linked. Check it out if you are looking for a new tool. I actually sliced the potatoes for this dish easily using the sharp knife. However, if you are making a double recipe, I think I would take the extra time to set up the Mandoline.
We are cheese lovers in our house! These Cheesy Almost Hasselback Gratin Potatoes are perfect for the cheese lover! Try them with other hard or semi hard cheeses and they will certainly taste delicious still. When I'm feeling frugal, I like to use up smaller pieces of cheese that aren't so easily sliced for sandwiches or used for charcuterie and fruit and cheese boards.
What makes these gratin? After baking these, we broil them 3-4 inches from direct heat to get a nice cheesy buttery crust on them. The shallots will get browned and even charred but most will be underneath the cheese and will just taste yummy.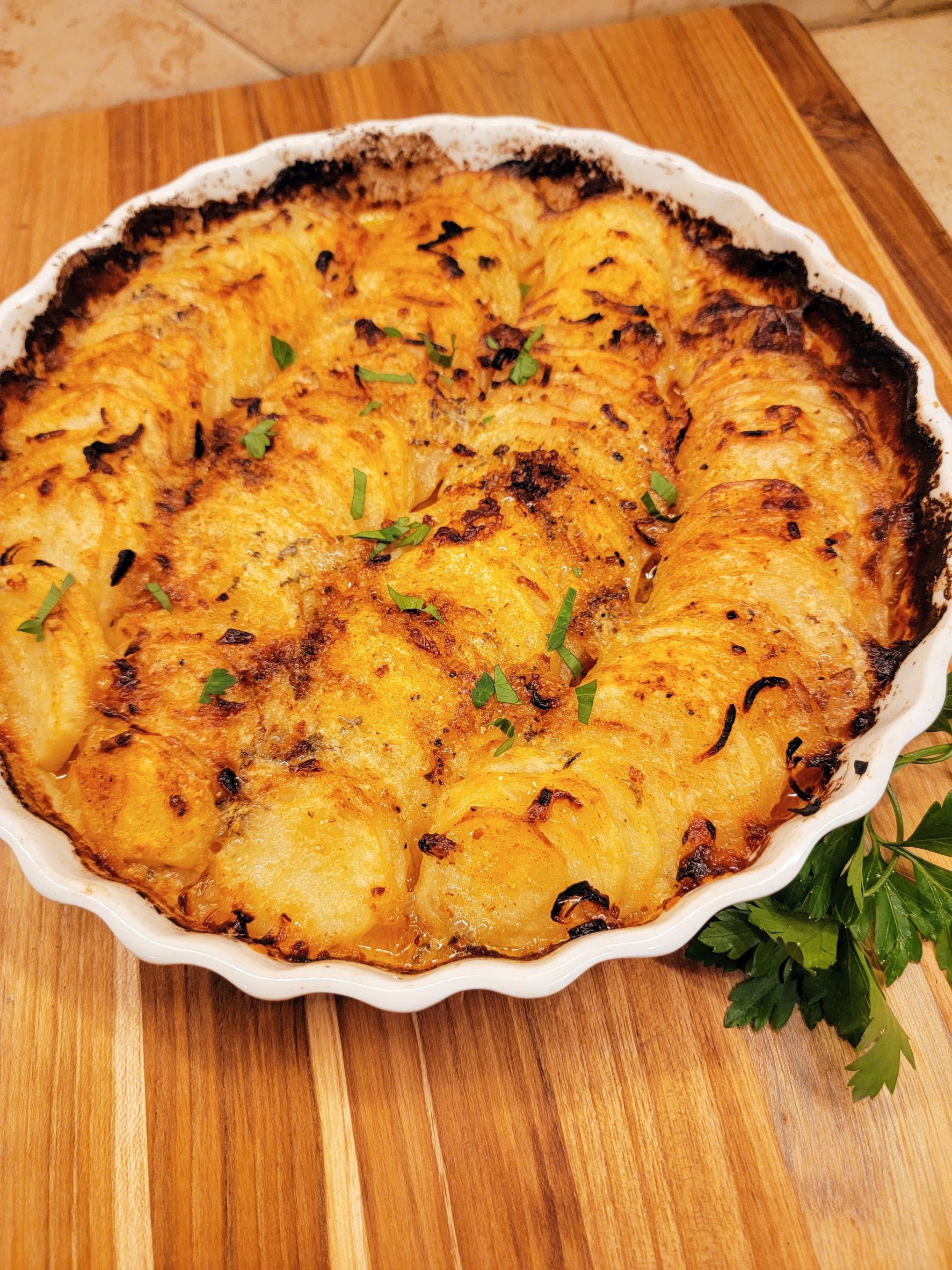 Cheesy Almost Hasselback Gratin Potatoes (Gluten Free)
These Cheesy Almost Hasselback Gratin Potatoes are the perfect side for your meal!
Equipment
1 8" quiche pan or casserole dish
Ingredients
5 medium russet or golden potatoes

peeled and thinly sliced 1/16- 1/8 inch thick

1/2 teaspoon Kosher salt

2 1/2 tablespoons butter, melted

1/4 cup milk

2 tablespoons heavy cream

or half and half

1/4 cup minced shallots

3/4 cup grated Coastal cheddar or other white cheddar

1 1/2 ounces Gorgonzola cheese, crumbled

3/8 teaspoon paprika, gf

1/4 teaspoon black pepper
Instructions
Preheat the oven to 375 degrees F.

Oil the baking dish or quiche pan. Lay the sliced potatoes in rows, fanning a bit. Sprinkle with the salt.

Stir the milk and melted butter together and pour over the potatoes. Add the minced shallots. Top with cheeses, paprika and black pepper. Drizzle the cream over the top.

Cover and bake 45-50 minutes or until potatoes are tender throughout.

Broil for 3-5 minutes until browned on the top. Then enjoy!